GBA Annual Convention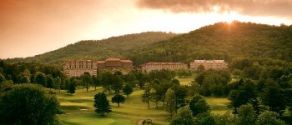 June 10-13, 2012
The Grove Park Inn
Asheville, NC
The Georgia Bankers Association Annual Convention provides an opportunity for the association membership to interact with other bankers and financial industry suppliers, hear industry experts, regulatory representatives and professional speakers share ideas pertinent to the banking industry, meet and interact with the association leadership and participate in the annual business meeting of the association.

The convention is designed for CEOs, Directors, Senior Bank Managers, Associate Members and members of the Bank Counsel Section. Spouses and guests are included in all events plus others planned especially for them.
Questions? Please send an e-mailto the Webmaster.