---
Legislative Events Draw Big Crowd
News of an improved banking and economic environment and a preview of a busy Georgia General Assembly session highlighted the GBA Legislative/Economic Forum and annual Legislative Reception Wednesday. A huge crowd of GBA members gathered in Atlanta for the afternoon's events. The economic forecast from Tim Quinlan of Wells Fargo was for moderate economic growth in 2013 and 2014. He said growth during the first half of 2013 will be slowed somewhat by tax increases and federal budget issues as part of the fiscal cliff deal made as well as lingering questions about the national debt ceiling. More positive signs for the long term are that the housing correction is progressing, and consumer debt-to-income ratios have declined during the past few years at the fastest rate in 40 years. Rob Braswell, Commissioner, Georgia Department of Banking and Finance, outlined a "stabilized" banking sector. He cited fewer problem banks the department is monitoring, improving exam ratings and more enforcement orders being lifted. A number of Georgia elected and appointed officials visited the Forum, expressing their appreciation of our industry's impact on the state's success. "Georgia is positioned properly for growth and expansion," Lt. Gov. Casey Cagle told the crowd. "Access to capital is mportant to commerce, and banks are critical to that." Also addressing GBA members were House Majority Leader Larry O'Neal; Rep. Greg Morris, Chairman, House Banks and Banking Committee; Sen. John Crosby, Chairman, Senate Banking and Financial Institutions Committee; Doug MacGinnitie, Commissioner, Georgia Department of Revenue; and Gary Black, Commissioner, Georgia Department of Agriculture. After the Forum, members had the opportunity to share their views and thank their elected officials for their service during the reception. With questions, contact Joe Brannen, 404.420.2026, or Elizabeth Chandler, 404.420.2027.
---
Legislature Convenes; Lots of Leadership Changes in the Senate; House Leadership Returns
The 2013 session of the Georgia General Assembly convened Jan. 14 and members quickly got to work adopting new rules and organizing committees. In the House, the members re-elected their leadership team: Speaker David Ralston (R-Blue Ridge); Speaker Pro-tem Jan Jones (R-Alpharetta); and Majority Leader Larry O'Neal (R-Bonaire). Stacy Abrams (D-Atlanta) was re-elected by her colleagues as House Minority Leader. Rep. Greg Morris (R-Vidalia) returns as chairman of the House Banks and Banking Committee. In the Senate, there will be much new leadership: David Shafer (R-Duluth) will serve as President Pro-tem and Ronnie Chance (R-Tyronne) is the Majority Leader. Steve Henson (D-Decatur) remains as Senate Minority Leader. We are looking forward to working with Sen. John (Dickey) Crosby (R-Tifton) who was named chairman of the Senate Banking and Financial Institutions Committee replacing former chairman Jack Murphy (R-Cumming) who moved to chair the Senate Regulated Industries and Utilities Committee. Click here for a list of House committees and here for a list of Senate committees, so take a look to see the ones on which your Senator and Representative will be serving.
Bills we are already following…
Throughout the session, we will be frequently updating the State Issues Page on GBA's website adding bills we will be supporting, opposing or simply monitoring. We've already added several this week:
GBA at the Capitol
Throughout the session, GBA will be represented by our Senior Vice President for Government Relations, Elizabeth Chandler, 404.420.2027, and President and CEO, Joe Brannen, 404.402.2026. Contact either of them with questions about legislation, information about how your legislator voted on a particular issue or to request any other information related to the Georgia General Assembly.
---
Understanding CFPB Definitions for Rural and Underserved Designations
Many GBA members have asked for help in clarifying the balloon payment feature exemptions included in the CFPB's Ability-to-Repay (ATR) and Escrow rules and Qualified Mortgage (QM) definitions issued last week. There is a limited exception to allow certain balloon-payment loans as QMs if they are originated and held in portfolio by small banks in predominantly rural or underserved areas. We're working with ABA and others to get a better understanding of the definitions, but here are some of the basics as we understand them at this point. The rural and underserved definition contained in the Escrow rules is drawn from existing but not widely known work done by USDA and the Office of Management and Budget. Here's a summary of the rule:
"Rural" or "Underserved:" During the preceding calendar year, the creditor extended more than 50 percent of its total first-lien "covered transactions" secured by a first lien on properties that are located in counties designated either "rural" or "underserved." CFPB will publish lists of counties that are designated as such. (12 C.F.R. 1026.35(b)(iii)(A) and 1026.35(b)(iv)).


Rural: A county is rural during a calendar year if it is neither a metropolitan statistical area nor a micropolitan statistical area that is adjacent to a metropolitan statistical area, as defined by the U.S. Office of Management and Budget and applied under currently applicable Urban Influence Codes (UICs) established by the Department of Agriculture's Economic Research Service.


Underserved: A county is underserved during a calendar year if, according to Home Mortgage Disclosure Act data for that year, no more than two creditors extend "covered transactions" secured by a first lien five or more times in the county.
Here's a link to the current list of Urban Influence Codes for all counties in Georgia, alphabetically by county. The rules specify that counties with UICs 4, 6, 7, 8, 9, 10, 11, and 12 are rural for purposes of the special balloon mortgage exemption. Otherwise balloon mortgages are not in the QM safe harbor. There's much more analysis and education needed on this, we know, so look for more details and some special programming from GBA to help member banks know and understand the effects of these and more new mortgage requirements to come (see next story). The Ability-to-Repay final rule will take effect in January 2014. Let us know what you think, too. Contact Joe Brannen, 404.420.2026, or Elizabeth Chandler, 404.420.2027.
---
New Mortgage Servicing Rules Announced by CFPB
In conjunction with a field hearing in Atlanta, the CFPB Thursday announced extensive final rules that amend the mortgage servicing provisions of the Truth in Lending Act and the Real Estate Settlement Procedures Act. There are new requirements for interest-rate adjustment notices; prompt payment crediting and payoff statements; error resolution and information requests; periodic billing statements; lender-placed insurance; early intervention with delinquent borrowers; and loss mitigation procedures. Some of the specific new requirements are:
Moving forward with foreclosure while simultaneously working with the borrower to avoid foreclosure, called dual tracking, is restricted. Servicers cannot make the first notice or filing required for the foreclosure process until a mortgage loan account is more than 120 days delinquent.


Servicers must send a written notice to a borrower within 15 days of a second missed payment, and provide in that notice examples of "loss mitigation" options available to avoid foreclosure.


Servicers must consider and respond to a borrower's application for a loan modification if it arrives at least 37 days before a scheduled foreclosure sale. If the servicer offers an alternative to foreclosure, they must give the borrower time to accept the offer before moving for foreclosure judgment or conducting a foreclosure sale.


Servicers that handle 5,000 mortgage loans or less that they or an affiliate own or originate are exempt from some of the new rules. The exemptions include many of the procedural rules, including most of the requirements on the handling of loss mitigation applications.
That's just a small sampling of the details. Here's a link to the CFPB fact sheet outlining the rules. The mortgage servicing rules take effect in January 2014, and the CFPB says it will conduct extensive industry and consumer education campaigns in the coming months to help with compliance. Here's a link to a full summary of the rules, and here's a link to all CFPB final rules. With questions, contact Joe Brannen, 404.420.2026, or Elizabeth Chandler, 404.420.2027.
---
CFPB Holds Community Bank Roundtable
While CFPB was in Atlanta for the field hearing and release of the new servicing rules, Director Richard Cordray and several of his top staffers took time to hold a roundtable for a small group of community banks. Cordray reminded those attending of the agency's support for the community bank model and thanked the bankers for what they do for their communities. Cordray heard from bankers in urban, suburban and rural markets and the consistent theme from the bankers was the need for clear, concise and understandable rules. "We're good at following the rules. We just need your help understanding what they are," said Dan Blanton, President and CEO, Georgia Bank and Trust in Augusta. Much of the discussion centered around the confusion about those balloon loans that do not fit the qualified mortgage definition and what risks banks will incur if they keep making those loans. Cordray encouraged the bankers to move away from balloon mortgage loans and replace them with adjustable rate mortgages, something most bankers attending had little familiarity with. GBA Chairman Jim Edwards, CEO of United Bank, Griffin, summed up the concerns well when he said to Cordray and the CFPB staff, "Whatever you do, please make it as simple as possible for bankers and the consumers we're trying to serve. The more complex you make it, the more banks will simply stop providing those products, and our customers and communities will suffer as a result."
---
Burnsed Recognized for Work with Bryan Co.
This month's Georgia Trend magazine includes a profile about business conditions in Bryan County. Jimmy Burnsed, Bryan Bank and Trust, a division of SCBT, is prominently featured for his role as Bryan County Commission Chairman. The article outlines the county's ability to have weathered the economic downturn and mentions its encouraging prospects for growth. "We did have a downturn in 2009 and '10," said Burnsed in the article. "But we did not see a deep downturn in sales tax revenues because of the traffic on I-95. It seemed to keep on pumping the money for us." The article also cites proximity to the Port of Savannah and Fort Stewart as solid economic engines.
---
New Georgia Banking Update Available
With the new year comes an updated version of our regularly published Georgia Banking Update. It has all the most current facts and figures about our industry here in Georgia. This version includes new information about what we expect from the Georgia General Assembly during this session, updates on national legislative and regulatory issues, and updated statistics about foreclosure avoidance efforts and Georgia's foreclosure process. Access the Georgia Banking Update.
---
HR Professionals Institute Highlight: Legal Update Session Planned
We are looking forward to our upcoming HR Professionals Institute where Steve Greene, Helms & Greene, LLC, will identify and discuss the most significant legal compliance challenges for community bankers. This session will include practical advice. Attendees will have an opportunity to raise questions and observations during this highly interactive session. Steve will also provide take-and-use materials to assist bankers implement HR best practices. The HR Professionals Institute will be Feb. 7-8 at the Savannah Riverfront Marriott. We've secured a discounted hotel room rate of $179 for attendees so make your reservations before Jan. 15 by calling the Savannah Riverfront Marriott Hotel directly at 912.233.7722. With questions, please contact GBA's Marybeth Jones at 404.420.2032.
---
Welcome New Associate Members
Congratulations to the following companies that were approved for associate membership at the Jan. 16 GBA Board of Directors meeting:
Associate Members have played an important part of the GBA throughout our 120 years. Today, almost 200 businesses enjoy increased visibility and expanded marketing opportunities, and banks have more options for top-quality, cost-effective products and services. Company descriptions and contact information are available on our website, or contact GBA's Kenyetta Parks at 404.420.2035 for more information
---
Regional Economy Grew Moderately in late 2012
Economic activity in the Southeast expanded moderately in late November and December, with most of those reporting expecting continued modest growth in early 2013, said the Federal Reserve's monthly Beige Book report on economic conditions out this week. In the Fed's Sixth District, which includes Georgia, bankers indicated that loan demand had strengthened, driven in large part by an increase in mortgage lending. Retailers had a modestly positive holiday season, tourism and business travel were strong and employment levels improved modestly. Manufacturers, on the other hand, noted a decline in orders and production.
---
GBA Security Committee Meets, Sets Conference Agenda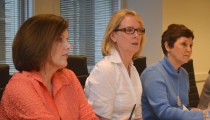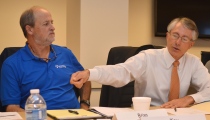 The GBA Security Committee, chaired by Rebecca Chitwood, Pinnacle Bank, Elberton, met this week to set the agenda for the annual GBA Security Conference scheduled for April 11-12 at the Savannah Riverfront Marriott. Topics will include guns in banks and active shooter policies and plans, ATM skimming, deposit automation fraud, and preparing security board reports. A peer exchange will provide time to learn from other attendees. The committee spent a considerable amount of time discussing gun violence and shared guides available from the Department of Homeland Security that can be helpful in training and planning (Active shooter booklet; Active shooter pocket card). Also, more general business emergency planning information is available at http://www.ready.gov/business. A full agenda and brochure will be available soon. With questions, please contact GBA's Marybeth Jones at 404.420.2032.
---
More BSA, Anti-Money Laundering Enforcement
With the highly publicized consent agreement reached with one of the nation's largest banks this week, we were all reminded that Bank Secrecy Act/Anti-Money Laundering (BSA/AML) compliance remains an area of intense focus for regulators and the Department of Justice. GBA has a number of BSA-related programs coming up to help your bank ensure compliance. Within the past week, we've added a webinar Feb. 26 specifically focusing on BSA/AML and OFAC compliance. We also have other webinars Feb. 5 and Feb. 8 that include BSA-related content. And there are three self-paced courses we offer; Bank Secrecy Act, Bank Secrecy Act for Lenders, Bank Secrecy Act for Tellers. See the GBA Calendar of Events and select the compliance calendar view for all of our compliance resources.
---
Making Home Affordable and the HOPE NOW Alliance are bringing the nation's largest mortgage servicers, along with several non-profit housing counseling organizations, to Atlanta in January to work one-on-one with struggling homeowners in Georgia. This will be the fifth time that Making Home Affordable and HOPE NOW have co-hosted a homeowner event in Atlanta since 2009. The previous four events been attended by over 8,000 homeowners. This free event will be held on Friday, Jan. 25, 2013, at the Cobb Galleria Centre – Hall A, 2 Galleria Parkway, in Atlanta. Doors open at 1 p.m. and the event will run until 8 p.m. Homeowners will be seen on a first come, first-served basis and are encouraged to bring all mortgage documents, income documents, and hardship letters. A full list of the necessary documents can be found at

www.MakingHomeAffordable.gov

and

www.HOPENOW.com

. According to statistics from HOPE Now, its members have modified more than 463,700 Georgia mortgages since 2007 compared to about 202,000 foreclosure sales, a ratio of about 2.3 to 1.





---
IRA Basics, HMDA and CRA and Bankruptcy, Garnishments, Liens and Levies and More Coming Up
We've got five really strong seminars coming up that will help bankers in a variety of ways. Register and join us.
IRA Basics Seminar - Feb. 5, Macon
Designed for new account representatives, certificate of deposit personnel and any officer/manager who oversees the IRA department, the seminar will be led by Patrice Konarik with Sunwest Training Corp. in Gilchrist, TX. Take advantage of learning everything from A to Z about IRAs. The seminar also includes the 225-page IRA Training and Reference Manual, otherwise known as the "IRA Survival Guide" or the "Red Book." Click here to register...
HMDA and CRA Workshop - Feb. 14, Macon
Led by Steve Moore with Bank Compliance Services, Avondale Estates, this one-day seminar is designed for compliance officers, loan officers and other bank personnel responsible for HMDA data collection and reporting. Topics to be covered include the new rules, types of loan applications that are HMDA reportable, the regulatory consequences for non-compliance, "community development" loans and much more. Click here to register...
Internal Audit Seminar - Feb. 20, Macon
This seminar is designed for internal auditors, audit committee members, operations officers, compliance officers and internal control personnel. This one-day seminar will cover the basic concepts related to community bank internal controls and internal audit techniques. Click here to register...
Analyzing Financial Statements – Feb. 28, Macon
Register now for GBA's Analyzing Financial Statements seminar. Led by Mike Allen with State Bank & Trust, Atlanta, this one-day seminar is designed for entry-level commercial lending officers, credit trainees and analysts. Topics to be covered include analyzing personal tax returns, analyzing commercial financial statements and much more. Click here to register...
Bankruptcy, Garnishments, Liens and Levies Seminar - March 21, Macon
GBA's Bankruptcy, Liens and Levies seminar has been rescheduled for March 21. Designed for collection officers, compliance officers and operations officers, this one-day seminar will address the changes and modifications in federal bankruptcy law as well as other changes and developments related to liens, levies and garnishments. The instructor is Gary Moser with Moser, Rose & Cox, Valdosta. Click here to register...
---
A GBA Webinar is a great way to quickly get the training you need right from the comfort of your office. Here is a sample of upcoming offerings. Check the GBA-U Calendar of Events for any webinars you are interested in at www.gabankers.com.
All webinars are live and allow time for questions and answers. The $255 registration fee gives you access to one web site "seat," one telephone site license and all handout materials. If you can't attend the webinar, you may buy the audio CD, handout materials and a password to see the session online. With questions, please contact GBA's Courtenay Pope at 404.420.2015.
---
Elements of a Compliance Program for Compliance Professionals
ABA has just added another course to the Online Courses for Compliance Professionals, Elements of a Compliance Program for Compliance Professional. The purpose of this course is to provide students with the fundamental elements that every bank's compliance program should include, regardless of size or location of the bank. The course describes risk-based management approaches and the necessary elements of a successful program, which includes board and senior management oversight; defined, communicated, and enforced accountability; necessary policies and procedures; training strategies; internal and external monitoring and auditing requirements; and, examination management techniques. Students will learn through a combination of instructor videos, exercises, readings, glossaries, self-assessments and more. Students will complete the course with a final exam to earn Certified Regulatory Compliance Manager (CRCM) credits. This new, mobile learning is delivered through a combination of instructor videos, exercises, and self-assessments – all accessible via your computer or your tablet. Elements of a Compliance Program for Compliance Professionals is one of several courses in the Online Courses for Compliance Professionals series. Click here to see a list of available courses now being offered.
AIB Instructor Led ONLINE Course Offerings
Back to the Basics with Principles of Banking, Marketing Financial Services and Supervisor Certificate
Here are the instructor-led AIB online classes offered in February. These courses have weekly assignments as well as midterm and final exams. A great value is that the courses can be taken from your home or office. All you need is a computer, printer and Internet access. Classes with an asterisk require Microsoft Excel Software. Please register two weeks in advance to secure a seat in the class.
| | |
| --- | --- |
| Feb. 4 | Managing Funding, Liquidity and Capital |
| Feb. 4 | Managing Funding, Liquidity and Capital (w/o textbook) |
| Feb. 4 | Law & Banking: Principles |
| Feb. 4 | Law & Banking: Principles (w/o textbook) |
| Feb. 4 | Analyzing Financial Statements |
| Feb. 4 | Principles of Banking |
| Feb. 4 | Analyzing Bank Performance |
| Feb. 4 | Analyzing Bank Performance (w/o textbook) |
| Feb. 12 | Supervisor Certificate |
| Feb. 12 | Money & Banking |
| Feb. 12 | Principles of Banking, Accelerated |
| Feb. 12 | Marketing Financial Services |
Please see the AIB Online Course Schedule for a complete listing or contact GBA's Alison Moreau at 404.420.2034 with questions.
---
Help to Responsibly Ensure Service, Good Money Management for Customers and Generate Income
As some non-interest income sources have diminished and you're looking for replacement strategies, banks are encouraged to make sure ideas for increasing revenue also treat customers fairly and maintain good levels of customer service. Ongoing regulatory scrutiny and consumer complaints about rising service fees and non-disclosed financial products and processes should be strong signals that reinforce those basics. As economic conditions continue to affect the financial well-being of many consumers, providing your customers with a strategy – such as an overdraft privilege program – that helps them to better manage their money can be a valuable benefit to them and can generate much-needed income for your bank. But, make sure your practices do not pose financial hardship for program users. Check out this article from GBA Strategic Partner John M. Floyd & Associates (JMFA) to learn more. JMFA is a leading provider of profitability and performance-improvement consulting. For more than 30 years, JMFA has been recognized as one of the most trusted names in the industry, helping financial institutions enhance their bottom line with programs like JMFA Overdraft Privilege®. For more information, please contact Waid Thompson, JMFA's regional sales director, at 888.345.8639.
---
Here's How Over 100 GBA Members Meet New State ELT Requirements
Previous participation in Georgia's electronic title and lien program, ELT, was voluntary, but on
Jan. 1, 2013, Georgia began phasing in mandatory ELT for all lenders. The Georgia regulation required lenders with 500 or more security interests or liens on Georgia certificates in the 2012 calendar year to participate in ELT beginning Jan. 1. Lenders with 200 or more security interests or liens in the same calendar year must participate by July 1, 2013, and lenders with five or more security interests or liens on Georgia certificates of title in the immediately prior calendar year or the same calendar year must begin to participate by Jan. 1, 2014. Since the state began its ELT program in 2008, DDI has worked closely with over 100 GBA members, helping set up and support Georgia customers using Premier eTitleLien™, a secure, web-based application. The application allows lien holders to participate in the state's ELT program while remaining in complete control of their title portfolios. DDI is a state-approved provider of ELT service. As Georgia lenders transition to ELT, DDI continues to offer its quality product combined with superior customer support. For more information about ELT, please contact DDI's Ann Y. Gunning or Jessica Trotter Shand at 803.808.0117.
---
Why Do You Need the Guide to Bank Record Retention? Here are Five Reasons
Each year, banks receive, create and store massive amounts of information. This information is a strategic asset that can help the bank make decisions, document its activities and provide evidence of the bank's compliance with laws and regulation. Protecting this asset requires a well thought-out program. The GBA Guide to Record Retention can help:
Your staff to know what records an organization has and how long they must be retained (a requirement that employees must follow)


Your bank comply with applicable laws and regulations that require the retention of specific records for specified periods of time


Your team understand retention of records to assist business needs and address legal considerations (such as statutes of limitation)


Establish uniform retention periods for records — based on law, business needs or preferences — so that the organization can regularly, systematically and in good faith dispose of records that have met their established retention periods; and


Derive economic benefits by controlling the growth of records as well as reducing storage costs.
To place your order, please print and complete the order form or contact GBA's Kenyetta Parks at 404.420.2035 with questions.
---
Find a Job, Post a Job with GBA Job Bank
The Georgia Bankers Association offers free job posting resources for our member banks. These listings can be viewed online or through our print publication, the GBA Bulletin, mailed every other week. Resume postings are also available. For more information, please contact Kenyetta Parks at 404.420.2035.
---
Read All About It: Send Us Your News
Please remember to include the Georgia Bankers Association on the list of recipients for announcements about promotions, new employees and special recognition your bank has received. We want to share your news with your colleagues across the state. Please forward your announcements and photos to GBA's David Oliver and Bogan Brannen.
---
Alpharetta - Bank of North Georgia, a division of Synovus Bank
Eric Klein has been named Senior Vice President, Corporate Banking.
Atlanta - Midtown Bank and Trust
The bank is proud to announce its approval as an SBA Preferred Lender. Jeremy Reimann has joined the bank as Vice President and SBA Lender.
Atlanta - Georgia Commerce Bank
The bank has opened a new location in Peachtree Corners. Dan Baker, will lead the branch as Senior Vice President and Market Executive.
Elberton -- Pinnacle Bank
Sue Cone retired Dec. 31 from a 33 year banking career. She was a member of the GBA Human Resources Committee for the previous 10 years.
Fort Valley - formerly the Citizens Bank
Our sympathies to the family, friends and colleagues of former president Cleon Moore who passed away recently. Cleon was a former GBA board member and on the board of the GBA Master Pension and Profit Sharing Trust.
Moultrie – Southwest Georgia Bank
Josh Bowen has been promoted to Assistant Vice President and Sylvester Branch Manager. Patrick Brown has been promoted to Vice President. Tammy Lane has been promoted to Vice President. Greg Costin has been promoted to Vice President. Keith Parker has been promoted to Vice President. Brittany Rye has been promoted to Administrative Officer. Mary Ruth Foster has been promoted to Administrative Officer. The bank recently made a generous contribution to the Colquitt County High School choral program.
Savannah - First Citizens Bank
The bank celebrated the opening of its new Savannah branch on Tuesday, Jan. 15 with a ribbon cutting ceremony. The branch is located at 110 West St. Julian Street in the Cay Building. Reeves Skeen is the City Market Executive. Reeves is also a member of the Leadership GBA Executive Committee.
Augusta – CSRA Business Lending
President Randy Griffin and CSRA Business Lending were featured in a nice article in the Augusta Chronicle this week.
Washington D.C. - The Office of the Comptroller of the Currency
Amy Friend has been named the agency's Chief Counsel.
Washington D.C. - Federal Housing Finance Agency (FHFA)
Sandra L. Thompson, Director of the Division of Risk Management Supervision (RMS) for FDIC, has accepted the position of Deputy Director of Housing Mission and Goals at the FHFA.
Washington D.C. - Federal Deposit Insurance Corporation
The FDIC Board of Directors has approved the appointment of Doreen R. Eberley as the new Director of Risk Management Supervision. Eberley served as Acting Regional Director in Atlanta before current Regional Director Tom Dujenski.
Southwest Georgia Bank employees
Front row L-R: Brittany Rye and
Mary Ruth Foster

Back row L-R: Keith Parker, Greg Costin and Tammy Lane

Danny Singley, Moultrie Region President of

Southwest Georgia Bank, front right, presents a check on behalf of SGB to Travis Kern, director of the Colquitt County High School choral program.
Pictured L-R: Anne Marie Jones (Relationship Manager),
Tia Slupski (Personal Banker), Drew Putt (Georgia Division Executive), Reeves Skeen (Savannah Market Executive),
Janice Woods (Retail Sales Manager) and David Haverstick (Financial Advisor)
---
50 Hurt Plaza, Suite 1050 | Atlanta, Georgia 30303 | 404.522.1501